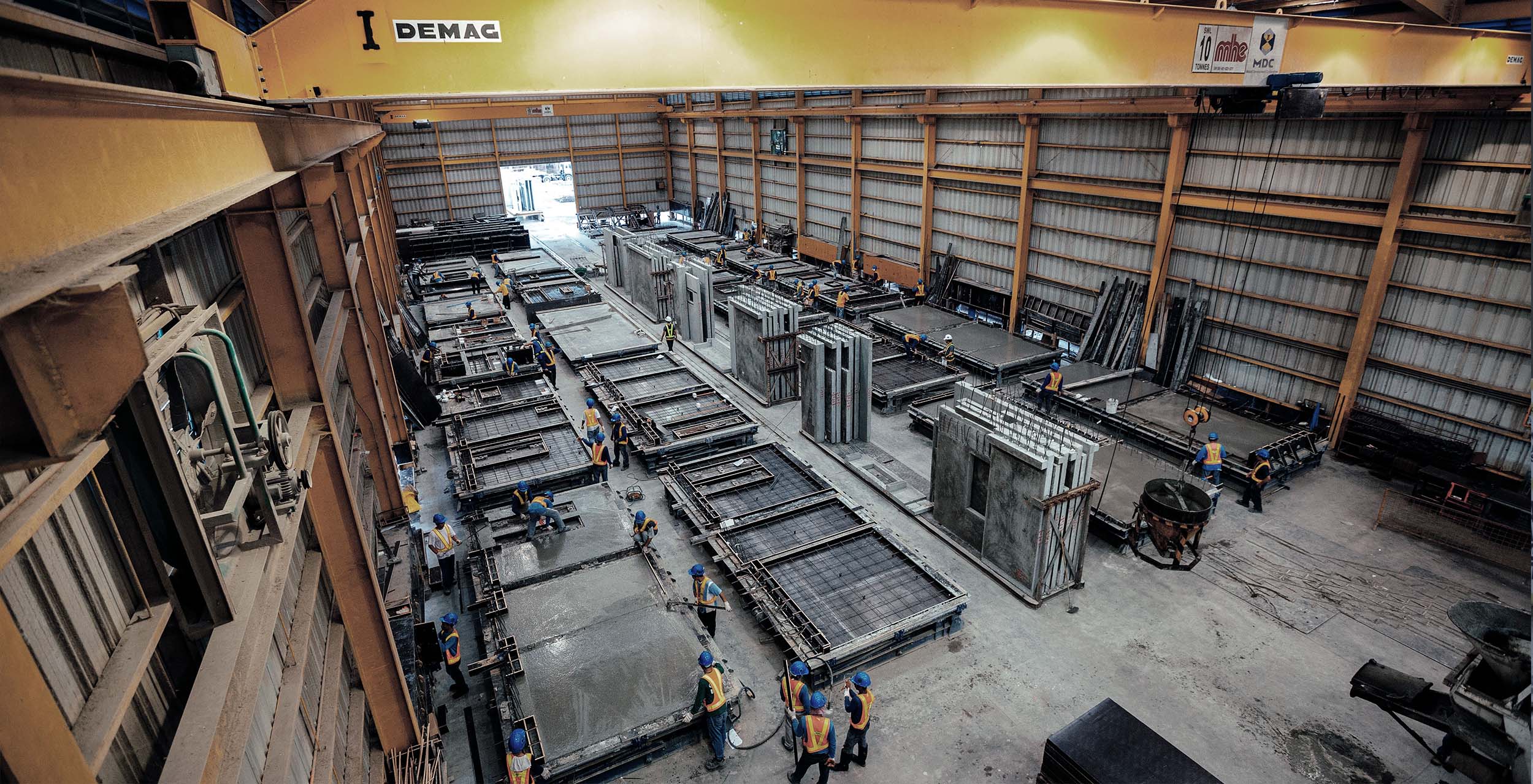 Concrete Products
MDC's subsidiary, MDC ConQrete, Inc. (MCI) produces and delivers world-class quality concrete through the use of new concrete technologies and methodologies and achieves cost competitiveness through efficient production, transportation, operations and optimum use of resources. MCI produces concrete mixes with design ranging from 1,000 PSI to 14,000 PSI depending on the client's requirements. Design mixes are highly adaptive to Philippine and international raw materials supply, thus guaranteeing customers unhampered delivery of concrete products.
Equipment Solutions
MDC's construction equipment requirements for its various projects are provided by the company's equipment leasing and fleet management subsidiary, MDC Equipment Solutions, Inc. (MEQ). MEQ has more than a thousand construction and construction-related equipment in its inventory, ranging from heavy equipment, lifting, support, transport and deep foundations equipment. To date, MEQ has the largest fleet of tower cranes and materials elevators in the Philippines.
Building Systems
MDC employs various building systems to create vital concrete building components that consistently meet the company's SQTCS targets. The Building Systems Team plays an important role in ensuring the timely start and enhancing the durability and quality of MDC's projects through the standardization of all Precast components, Formworks designs and temporary structures. To date, MDC is a major producer of Precast and Tran-slab panels and has one of the largest internal Formworks supply inventory in the Philippine construction industry.
Building Information Modeling
Critical to MDC's Design and Build execution strategy is the Building Information Modeling (BIM) team which is composed of seasoned professionals who provide total design, architectural and consulting services for MDC's clients. Through BIM technology, the team is able to inject efficiencies in quantification, construction scheduling, simulation and procurement to achieve better collaboration and visualization in designing projects. To date, MDC has the largest team of BIM users and stations in the Philippines.
Landscaping and Grounds Maintenance
MDC prides itself in creating lush and beautiful greenscapes for its various construction and golf course projects. Through the creation of MDC Greens, MDC envisions to be the top landscape and grounds maintenance service provider in the country with its pool of talents which includes seasoned Horticulturists and specialized staff practicing landscaping and golf course management. One of MDC Greens' notable projects is the Anvaya Cove Golf Course in Morong, Bataan, recognized as the Best New Golf Course for 2014 in the Asia-Pacific Region. Anvaya Cove Golf Course has also been nominated for the 2015 Best Golf Course in the Asia-Pacific Region.
Fit Out
MDC's subsidiary, MDC BuildPlus, Inc. provides quality Fit Out services for the company's construction projects. MDC BP provides value by creating interior spaces that are suitable for occupation in terms of brand image, safety, quality, functionality, affordability and sustainability.