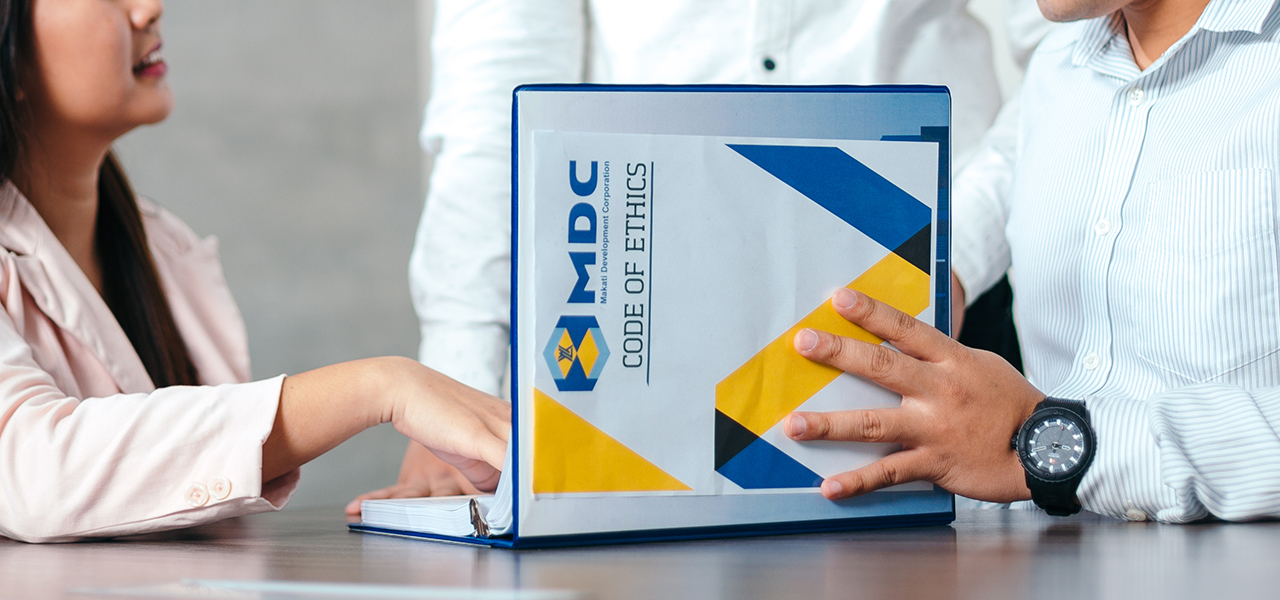 MDC is aligned with its parent company, Ayala Land, Inc. (ALI), and its ultimate parent company, Ayala Corporation (AC) in upholding the highest standards of corporate governance. Both ALI and AC have been recognized by various Philippine and international organizations for exemplary corporate governance practices. These recognitions include the 2016 ASEAN Corporate Governance Awards organized by the ASEAN Capital Markets Forum. ALI has also received the Philippine Stock Exchange's Bell Awards for exemplary corporate governance practices. MDC is firmly committed to good corporate governance as a vital element to sustained business growth and total customer satisfaction over the long term.
The company's corporate governance practices are principally contained in the Articles of Incorporation and By-laws and are compliant with the Code of Corporate Governance and regulations adopted of the Securities and Exchange Commission (SEC). The company is governed by a Board of Directors, the Chairman and majority of directors are not involved in the day to day management of the company. A Management Committee (Mancom) composed of heads of functional groups leads the company while managers at different levels are empowered to handle decisions based on their authority limits. All employees are expected to exemplify the behavior and professional demeanor consistent with all laws, rules, and regulations, as well as Company's policies and procedures. Third-party business partners are also expected to embrace MDC's commitment to the Ayala Group's values and standards on corporate governance.
Business Integrity Program
The goal of the Business Integrity Program is to provide secured communication channels to employees, business partners, and other stakeholders so that they have every possible means to come forward and freely report fraud, violations of laws, rules, and regulations, or misconduct, to people of authority without fear of retaliation. These channels come in the form of electronic mail, telephone, fax, post mail, website or face-to-face discussions.
Code of Conduct and Business Ethics
All directors, the management and employees of MDC are required to comply with the company's Codeof Ethical Behavior. The company also has a Code of Ethical Procurement Conduct for all those whoinfluence the procurement process, as well as the Vendor's Code of Ethics.
Alongside all initiatives to promote good corporate governance, several enhancements were introduced by the Company as recommend by the Internal Audit Department to promote a higher standard of quality and business integrity during the conduct of our business. One of these enhancements is theImplementation and Monitoring of Compliance to the Code of Ethical Behavior. This is an established compliance structure which assigns oversight responsibility for the Company's Code of Ethical Behavior program to the Human Resources Group (HRG) Head or his/her designate. Group Heads are responsible for establishing, implementing and maintaining an effective program, including a system of internal controls, to ensure compliance by everyone with all laws and regulations and the provisions of this Code. People who manage others have a special responsibility to show, through words and actions, personal commitment to the highest standards of integrity. As coaches and leaders, supervisors and managers must:
Maintain an environment of open communication in which MDC's Corporate Values and the provisions of this Code and related policies and instructions are shared, discussed and even debated.
Ensure that their people understand the MDC values and the provisions of this Code and provide additional training, when appropriate.
Take reasonable steps to ensure that unethical conduct within their areas of responsibility isdetected and addressed.
Consider whether a person lives the MDC values before placing him or her in a position of responsibility. Everyone is responsible for notifying the Human Resources Group, Legal, Audit or the Compliance Officer immediately if he/she suspects, observes or learns of any unethical business conduct or the commission of any dishonest, destructive, or illegal act.
Conflict of Interest Policy
MDC employees are expected to promote the Company's interests. No employee shall compete with MDC, nor shall he or she allow business dealings on behalf of MDC to be influenced, and or even appear to be influenced, by personal or family interests. MDC employees are required to promptly disclose any business and/or family-related transactions to the company to ensure that potential conflicts of interest are surfaced and brought to the attention of management.
Abuse of Authority for Personal Advantage
All employees are to exercise sound judgment guided by the highest personal standards of honesty and integrity in all matters affecting MDC and all its subsidiaries. MDC employees who hold positions of authority are expected to be responsible for the people under their supervision and the care of physical, financial, and intellectual property resources entrusted to them for official use. No employee may abuse a corporate position for personal advantage or to promote any action contrary to MDC's ethical standards.
Personal or Business Involvement with MDC or its Competitors/Customers
/Suppliers
Employees are not allowed to engage or continue to be engaged in business with a competitor, customer, or supplier of MDC or any of its subsidiaries without the prior written approval of the President. Likewise, no employee who is in a position to influence MDC's business decisions or who is privy to confidential information, or in a position to cause undue preferential treatment in favor of a broker, customer or supplier, shall accept any donation from any of the same, without the prior written approval of the President. Borrowing of money or solicitation and/or acceptance of other favors is likewise not allowed.
Vested Interest with Company /Suppliers/Competitors
/Customers
Employees who have influence on MDC's business decisions, and any member of the said employee's immediate family, are not allowed to have any financial interest in a non-publicly owned enterprise if the said employee deals in behalf of MDC with the said enterprise or if that enterprise is a competitor, customer, or supplier of MDC or any of its subsidiaries, without prior written approval of the President.